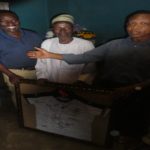 Emmy Musonda lost his career through no fault of his own. He suffered a terrible injury in
1993 and was effectively fired while he lay in a hospital bed recovering. He has never
worked in football since then. He has been denied the ability to support himself and relies on
charity.
In 2015 it got worse for him. Ravaged by diabetes his left leg was amputated above the
knee. Emmy Musonda is a national sporting legend in Zambia. Last month he was among
Zambian sporting legends finally taken to a Chipolopolo match as a guest of Empower-
Sport.
A woman recognised him. Beaming, she told her friend, "It's Emmy Musonda!" He smiled,
finally seeing that Zambia has not forgotten about him. #ASportingChanceofAfterca
reZambia
After all he has been through Emmy Musonda cares about others. Here he tries to
encourage stricken former Black Star, Salifu Fuseini.